NYCC is simultaneously an amazing experience and an amazing headache. As much as I adore the culture, fashion and food of NYC, I am strongly of the opinion that NYC drivers believe the commute is Deathrace 2000. But thankfully, we were Witnessed and totally able to make it through to sell some really awesome t-shirts to a whole set of new fans!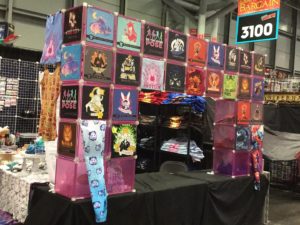 This year was a first as we were splitting the table with the lovely team at The Slug and Kraken. She makes really amazing jewelry and accessories inspired by sea creatures! Be sure to send her some love and look at her cool creations (and crustations).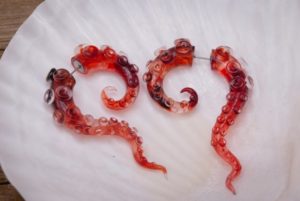 There were some pretty neat things being promoted this go round. For the audible release of the Harry Potter books, they had a giant pensieve immersive experience. By choosing a vial, you got to follow the journey of a particular character and then a free copy of one of the books. My friend learned so much more about Voldemort!
Comics-wise, I am always looking forward into all the things coming from Image. New releases from Saga, The Wicked+The Divine and Blackbird sorely tempted to pull moneys from my wallet. The Deadly Class series also looks pretty neat, but I was unable to pick it up. But I guess it will also be a tv series in the winter, so something neat to look forward to.
Speaking of, CAN WE GO ON ABOUT HOW AWESOME THAT GOOD OMENS TRAILER LOOKS?!?!?!

I can't even speak of how perfectly the casting has brought these characters to life. And holy moly, between this, Harry Potter and Jessica Jones I am just in complete love with David Tennant as a bad guy. No one else is capable of seething so beautifully, it is just an absolute joy to watch.
The final thing I will close out with are some of the few cosplay pics I managed to snag! Sadly, my phone lost many of the other photos I had saved, but it's ok! Still many enjoyable cool and creepy cosplays for all! Feel free to follow my instagram so you can keep up with the convention action while we're there!